home territories – n° 1, 2006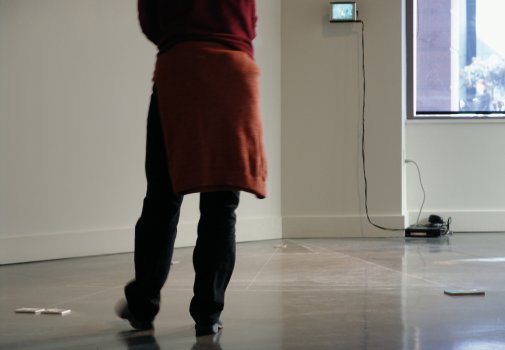 Oakland Art Gallery, San Francisco (USA)
The short movie "home territories - n° 1" is a part of the video series "Heimatgebiete / home territories". The idea behind the work is an unconventional conception of movement studies and "territory searches". Scaled down to the size of a postcard, the video shows the bizarre dervish dance of a woman who seems to be moved like a marionette by the rhythm of a men's choral song. Within the traditional boundaries of role stereotypes and cultural habits there are twilight zones that may require the development of different identities as a strategy to survive. The movie shows the field of tension between accepting and rejecting assigned roles.

Passing boundaries brings man close to madness; hence the "pathological moment" of his gestures is also an act of liberation.

actress in the video: Andrea Gierer

Installation in the Oakland Art Gallery, San Francisco within the exhibition project "Elsewhere - Not here, not There / Anderswo, nicht hier, nicht dort", November 2006.
Video in a small sized LCD monitor, postcards of an alp panorama/landscape, digital prints, drawing on the floor (physic. scetch of a spin movement of different bodies in space).